2020

Year in Review

Join Feed the Future as we reflect on this year's moments of resilience and hope.
Reflecting on 2020
In 2020, the COVID-19 pandemic changed our world immeasurably. Feed the Future quickly pivoted to help communities cope with the economic fallout. With our vast network of worldwide partners, we continued to cultivate hope for a more resilient, food-secure world. 2020 marked our 10-year anniversary and we commemorated progress made toward greater food security and nutrition in vulnerable communities around the world, while rededicating ourselves to the work ahead.
Partnering for Progress
From the private sector to universities and nonprofits to governments around the world, our partners make lasting change possible. This year, we worked together to address the root causes of poverty and hunger while fostering resilience along the way.
Cultivating Hope
We asked our partners what gives them hope that we can still end hunger in our lifetime. See what they had to say.
Partnering to Drive Lasting Change
Feed the Future forged new partnerships across sectors to bring unique skills and resources together to advance food security and nutrition.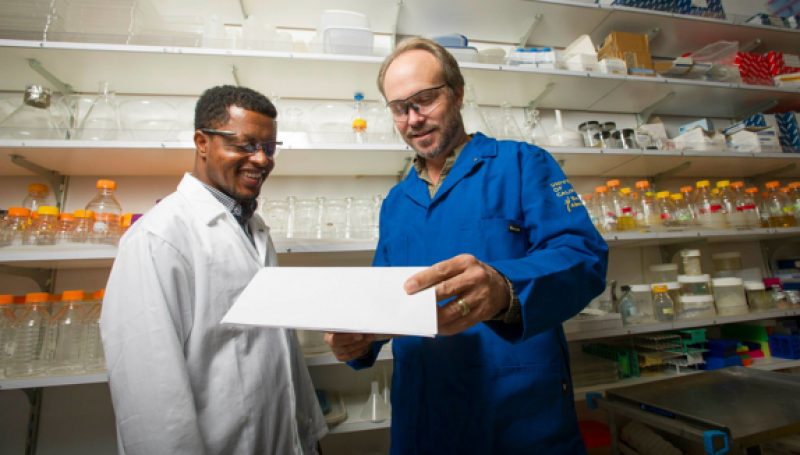 Photo by Karin Higgins
New University Partnerships Advance Innovation
Our newest Feed the Future Innovation Labs bring together U.S. and partner country researchers and institutions to advance solutions for ending global hunger.
Read More
Photo by Fintrac, Inc.
A New Commitment to Unlock Finance in Africa
USAID, the Swiss Agency for Development and Cooperation and the IKEA Foundation announced a $30 million commitment to Aceli Africa, an innovative partnership that unlocks capital for agricultural development.
Read More
Opening Doors, Changing Futures
Whether it's youth bringing their entrepreneurial spirit to the agriculture sector or women leading the fight against malnutrition in their communities, this year we helped changemakers stay the course during challenging times.
A Place to Trade
In the past, recurring droughts in Kenya often set families in Veronica's community back, making it difficult to escape poverty. Feed the Future helped build a safe and reliable marketplace for traders like Veronica to thrive.
Breaking Down Barriers to Opportunity
Feed the Future not only catalyzed investments for entrepreneurs, but also celebrated women and youth leaders who are bringing new voices and opportunities to agribusiness, STEM and beyond.
Photo by DAI Global LLC
Lifting Up Women-Owned Business Ventures
We empowered two more Ugandan entrepreneurs to take their businesses to the next level with the Feed the Future Growing Women's Entrepreneurship Award.
Read More
Photo by Daljit Singh
Women Scientists Share Their Stories for International Women's Day
Six women in the fields of science, technology, engineering and mathematics shared words of wisdom from their professional journeys.
Read More
Photo by CIMMYT
DFC Commits to Invest $6 Billion in Women
With a groundbreaking commitment to catalyze private investment for women's economic empowerment, the U.S. International Development Finance Corporation continued to break barriers for women around the world.
Read More
Photo by RTI International
USADF, USAID, and Citi Foundation Team Up to Invest in Young African Social Entrepreneurs
The U.S. African Development Foundation and USAID announced grants to 42 young African social entrepreneurs developing businesses for social and community change.
Read More
People Helping People
Every day, local leaders, changemakers and entrepreneurs are working to break the cycle of poverty, hunger and malnutrition. At the front lines of new and unprecedented crises, they remain committed to forging a better future not only for themselves, but also for their communities.
Meet Our Cultivators of Hope
With support from Feed the Future, these extraordinary individuals adapted in the face of great hardship and brought greater resilience and strength to their communities. Here are the leaders taking action to help communities stay resilient during the COVID-19 pandemic.
Hapsatou Kah
A teacher, leader and entrepreneur taking on nutrition in Senegal.
Read Her Story
Sylvia Natukunda
A Ugandan business owner working to keep her yogurt company running through the pandemic.
Read Her Story
Isaac Sesi
A Ghanaian innovator working to "create an Africa where no one has to go to bed on an empty stomach anymore."
Read His Story
Radhika Bolakhe
A smallholder farmer in Nepal expanding her dairy business with modern machinery.
Read Her Story
Rehema Mmari
A chief operating officer immersed in the transformation of Tanzania's dairy industry.
Read Her Story
Nelson Donis
A sales technician on a mission to help Guatemalan farmers achieve heartier harvests.
Read His Story
Meet More Cultivators of Hope
The Way Forward
This year, we saw firsthand that even in the toughest of times, progress is possible. As the COVID-19 pandemic places unprecedented stress on food systems around the world, our work to end hunger is more important than ever before.
Since 2011, Feed the Future has:
Unlocked over $3.5 billion in agricultural financing
Helped farmers generate more than $13.7 billion in agricultural sales
Helped develop and deploy over 1,000 innovations
Top Reads of 2020
We shared our impact every step of the way, and here are the top reads that resonated most with you in 2020.
Photo by WFP/Farm to Market Alliance
Young Entrepreneur Rethinks Future, Pursues Rural Agribusiness
For young Kenyans who struggle to make a living in urban areas, a career in agribusiness can be the path to success. They can take the skills learned from their university studies and urban jobs to become the next generation of agripreneurs. Lenah Mwangi is a 29-year-old graduate who did exactly that by leveraging her business-savvy mindset and passion for farming.
Read More
Photo by WorldFish
Fishers Find Success Through Seaweed in Bangladesh
Due to a fishing ban in place along the Naf River in Bangledesh, many fisherfolk have found a new way to make a living: seaweed farming. With simpler techniques, less expensive equipment and easy harvesting, seaweed farming comes with many benefits for fisherfolk. Feed the Future is supporting their transition to a new livelihood.
Read More
Photo by NCBA CLUSA
American Volunteer Brings Compost Solutions for Coffee to Peru
With support from the Farmer-to-Farmer program, the APROECO coffee cooperative helped coffee farmers in the San Martin region of Peru to carry out composting training with growers in the area to improve their soil. Over time, this helped the coffee farmers become more competitive and resilient in the face of COVID-19.
Read More
Animation from SAWBO™ Scientific Animations Without Borders YouTube Channel
Closing Gaps Through Animation to Build Food Security
After years of working in the education field, Julia Bello-Bravo knows how innovations in science can benefit communities and vulnerable families. Thanks to advances in technology like the proliferation of cell phones, she is helping low-literate learners gain equitable access to education through easy-to-understand animations.
Read More
Looking Ahead
The progress we have achieved in the past 10 years of Feed the Future gives us hope that we will overcome the challenges before us. Today, our partners and local communities are leading the way toward a brighter, more resilient future.
In 2021, we are looking forward to:
Helping communities rebuild for resilience in the wake of COVID-19
Participating in the UN Food Systems Summit and Nutrition for Growth
Sharing new impact data from more Feed the Future countries
Refreshing our foundational global food security strategy
Stay in the Know
Stay connected and in the know with inspirational stories and the latest information on the global effort to #endhunger, delivered regularly to your inbox.