Smartphone App Benefits Shrimp Farmers in Bangladesh
This article in brief:
Shrimp farmers have a strong yet unrealized potential to increase their income due to reliable demand in Bangladesh.
Through community-based training and the development of a smartphone app, Feed the Future is helping more than 18,000 shrimp farmers improve their production practices.
With the latest farming techniques and innovations, farmers can grow their yields and revenue to help lift themselves and their families out of poverty and hunger.
With the right techniques and knowledge, shrimp farmers in Bangladesh, even those with small-scale production, have the potential to maximize their income and further provide for their families while making significant returns on investment. To achieve this, farmers must follow rigorous production practices that require strict technical precision.
Historically, many farmers in Bangladesh haven't had access to this type of technical material nor training opportunities to optimize their farming operations. Feed the Future is working to change this with a community-based training initiative and the use of a new smartphone app to help disseminate this knowledge to all farmers through digital inclusion. And for rural women in Bangladesh, whose activities and movements are restricted, the app makes this information far more accessible to them.
Sharing knowledge to farmers through smartphones
Feed the Future's SAFETI Project, led by the U.S. Department of Agriculture, works with a range of private sector partners to promote improved production practices among more than 18,000 shrimp farmers in Bangladesh.
Seema Mondal, a 28-year-old shrimp and carp farmer, is one of those farmers.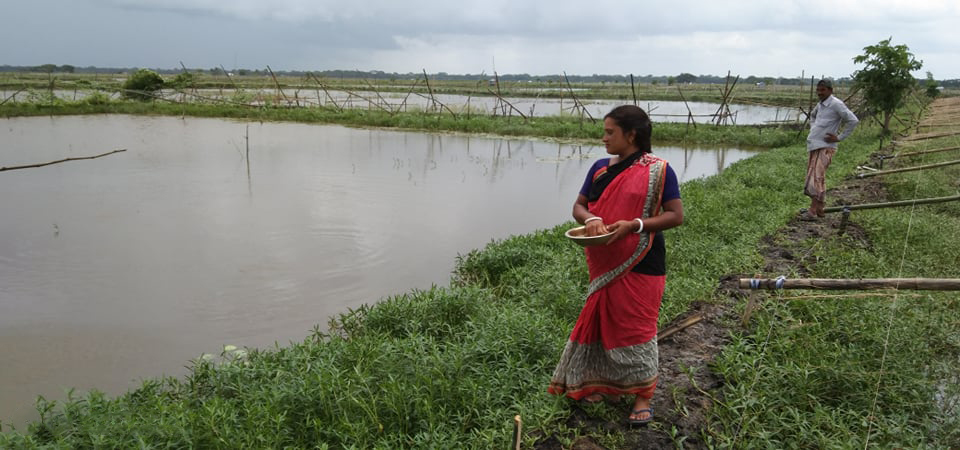 Photo by Winrock International
Before joining the Feed the Future SAFETI project, Mondal was achieving a fraction of her potential and harvesting only 43 kilograms per acre of shrimp in 2018. After just one year of participating in the project and applying what she learned from the training, Mondal increased her 2019 shrimp yield to 129 kilograms – an increase of over 300 percent – earning her $1,166 in profit, which is well above the industry average of 100 kilograms per acre.
Recognizing the impact that these training sessions had on farmers like Mondal, SAFETI partnered with a Bangladeshi technology firm to develop a smartphone application to make this knowledge hub and learning freely available and accessible to anyone with a smartphone.
The app would provide smallholder farmers with resources in Bangladeshi and English, such as:
Unlimited offline access to SAFETI's farming methodologies and training materials
A customized aqua-input calculator that determines optimal formulations and amount of feed and aqua-chemicals (based on the size of the farm, stocking density, etc.)
An online portal for farmers to submit questions to SAFETI's experts about shrimp farming and receive tailored responses
A push notification service that provides farmers with news and updates from the Department of Fisheries on special or urgent topics 
The new application – the Shrimp Farming BD App – was launched at a critical moment: during the COVID-19 pandemic.
 Photo by Winrock International
Increasing Access During COVID-19 
Prior to COVID-19 Mondal had hoped to learn even more technical skills and continue investing in improved technology. In March, when SAFETI's field activities and in-person trainings were reduced due to COVID-19, Mondal worried she would no longer receive the guides and best practices she needed.
While the launch of the app was intended to be a pilot so SAFETI could learn and adapt the technology as needed, its early full release helped ensure farmers like Mondal could continue to access technical advice.
"There are so many things to learn from the app," Mondal said. "I had forgotten some of the information provided during the training modules. Now I can follow those production methods by reading them on the app. I can also call the SAFETI staff if I need any further help."
Since the February 2020 launch of the app, more than 10,000 farmers have signed up and created accounts.
With continued access to SAFETI's suite of technical resources for digital inclusion, Mondal hopes to beat last year's harvest – a goal already within her grasp.
About The SAFETI Project
The Feed the Future SAFETI project is funded by the United States Department of Agriculture (USDA) and implemented by Winrock International in close collaboration with the Department of Fisheries and the Bangladesh Fisheries Research Institute. Over five years, SAFETI will work directly with 25,000 shrimp and prawn farmers from 10 selected upazilas, or administrative regions, in 4 districts of the southern part of Bangladesh.
The project focuses on improving livelihoods and environmental sustainability in the Bangladeshi shrimp and prawn industry.
Helpful Links:
Stay connected: Sign up to receive the latest information on the global effort to #endhunger.