2019
Year In Review
Join us for a look back at
Feed the Future's

biggest




moments

in 2019.
Innovation
The race to create sustainable food systems is one of the most urgent priorities of the 21st century. By investing in research and innovation, Feed the Future is meeting the global challenges to produce food more efficiently, improve nutrition and strengthen the resilience of families who rely on agriculture for a living.
We're leveraging technology to

fight food loss
We are studying the best approaches to
transform farmers' lives
We're thinking
outside the box

to
improve supply chains and grow nutritious crops
And we're counting on the
power




of education

to support the next generation of innovators
Partnership
From coast to coast, Feed the Future is forging new partnerships across sectors to bring unique skills and resources together. We're bringing new ideas, technologies, and services to bear to advance global food security, which benefits Americans at home and communities abroad.
Working With

Universities
In 2019, we announced new Feed the Future Innovation Labs and continued partnerships with top U.S. universities and partner country research institutions to tackle some of the world's greatest challenges in agriculture and food security.
Feed the Future Innovation Lab for Food Safety
Feed the Future Innovation Lab for Markets, Risk and Resilience
Feed the Future Innovation Lab for Crop Improvement
Feed the Future Innovation Lab for Food Security Policy, Research, Capacity, and Influence
Working With

Businesses
The business community is a key partner in our work and, in 2019, we expanded our private sector engagement to strengthen markets and stimulate broad-based, long-lasting economic growth.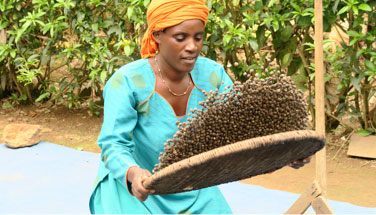 Women's Empowerment
When women are economically empowered, they reinvest in their families and communities and create a multiplier effect that promotes global benefits and stability. Feed the Future breaks down barriers that hold women back from participating fully in society to help them unleash their full economic potential.
Unleash
#HerImpact
These stories of the women we work with inspire us. We support women as leaders, influencers, groundbreakers, entrepreneurs and innovators.
Affiong
Affiong is the founder and CEO of ReelFruit, a food company in Nigeria that sources from smallholder farmers and demonstrates the power of agriculture-led growth.
Read Her Story
Aberu
Aberu is a farmer in Ethiopia who gained financial literacy and business skills to overcome the prospect of drought and preserve her business.
Read Her Story
Meskerem
Meskerem, a dairy farming entrepreneur, learned to raise cattle from her grandmother and now she is unleashing her impact to teach women in Ethiopia how to run a business.
Read Her Story
Bimala
In Nepal, Bimala is working toward a future where no more children grow up malnourished by helping mothers stay healthy and strong during and after pregnancy.
Read Her Story
Join The
Conversation
This Feed the Future Week, our partners joined us to celebrate #HerImpact.
Around the World
Feed the Future brings together partners from around the world to help developing countries transform their food systems to boost growth and opportunity and replace hunger with hope.
Target Countries
Feed the Future works alongside partner country governments to help them create sound policy and build capacity for food security and nutrition so they can plan, implement and finance their own solutions.
We are excited to announce the signing of a Declaration of Partnership on the #FeedtheFuture Country Plan for Ethiopia with the Gov't of Ethiopia to continue our investments in improving food security & resilience and in a healthier & more prosperous future for Ethiopians.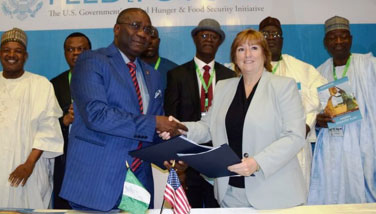 The U.S. works with partner countries to address the root causes of poverty, hunger & malnutrition. Recently, Chargé d'Affaires FitzGibbon signed a declaration of partnership w Nigeria to launch a @FeedtheFuture Country Plan to increase investments in #FoodSecurity. #WorldFoodDay
We are excited to sign the new @FeedtheFuture Declaration of Partnership with the Government of #Ghana at #AGRF2019 to continue our collective efforts to improve food security, nutrition and prosperity of Ghanaian people. #USinGhana
Partnership makes progress possible! Today the U.S. Government and the Government of Uganda celebrated their partnership in improving agriculture and food security through @FeedtheFuture at a Declaration of Partnership signing ceremony. #USAIDTransforms
Great visit to Niger – broke ground on construction to rehabilitate the country's largest irrigation system w President @IssoufouMhm – terrific meeting w potential beneficiaries of @MCCgov $437M Compact, thank you Niger!
Field Trip
In April, USAID Administrator Mark Green joined Advisor to the President Ivanka Trump for a trip to Ethiopia and Cote d'Ivoire to highlight the Women's Global Development and Prosperity Initiative and explore how to unleash the full economic potential of women working in the cocoa and coffee sectors.
#FeedtheFuture is proud to support & contribute to #WGDP by empowering women entrepreneurs in sectors such as coffee to start & grow their businesses. Check out @IvankaTrump & @USAIDMarkGreen's trip to see this work in action! https://usaid.gov/news-informati…
Incredible visit to a cocoa farm where women dominate! We announced a NEW $2 million public-private partnership w/ @USAID & @WorldCocoa that creates 300+ NEW savings associations, so women farmers can access capital & training programs to support themselves & their families! #WGDP
Economic growth depends on creating opportunities for people, particularly women, at all levels of society across the country. @IvankaTrump and I were able to visit a cocoa farm in #Adzope, Cote d'Ivoire to announce a new public private partnership with @worldcocoa #WGDP
New Findings
The Board for International Food and Agricultural Development released a study that outlines the positive impact of the United States' investment in agriculture and food security abroad, highlighting the important returns this support brings back to the American people.
How The United States Benefits From Agricultural Development And Food Security Investments In Developing Countries
Your Top Reads
We're playing the hits! Here's the content our readers viewed the most in 2019.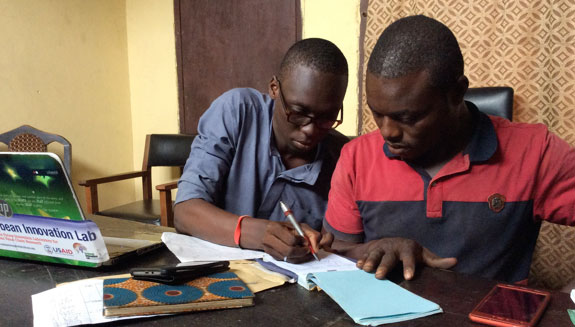 Medium
Twitter
Facebook
LinkedIn
Results
Feed the Future empowers people, especially women, in ways that help build healthier families, thriving communities and global stability that will last well into the future.
23.4 million
more people now live above the poverty line (estimate)
3.4 million
more children are living free from stunting (estimate)
5.2 million
more families are no longer suffering from hunger (estimate)
2.6 million
more women gained access to credit between 2012-2015
8.2 million
more women are living in households that are not hungry since 2012
over $630 million
in loans unlocked for women and their businesses since 2011
3.3 million
more women had reasonable workloads between 2012-2015
3.7 million
more women had input into farming decisions between 2012-2015
Looking Forward
Looking back over the past decade, we have achieved so much together since the 2007 and 2008 food price spikes by helping millions of families rise out of poverty. As we enter 2020, we look forward to helping our partner countries take further steps to stabilize their futures and end hunger in the new decade.
Share Us