More From the Kit:
Who We Are
---
Ending hunger is the greatest challenge and opportunity of our lifetime. Around 800 million people already experience chronic hunger, and crisis levels of hunger are increasing due to COVID-19 and conflict, among other crises.
Feed the Future is the U.S. Government's initiative to end global hunger. Led by USAID and driven by collaborative partnership across public and private sectors, including 11 U.S. Government agencies, Feed the Future addresses the root causes of poverty and hunger. We do this by boosting inclusive agriculture-led economic growth, resilience and nutrition in countries with great need and opportunity for improvement.
Operating Principles
---
Feed the Future's development model is comprised of the below core operating principles:
Partnering for progress
Lasting solutions require the resources and expertise of partners in the private sector and across the international development community, including nonprofits, NGOs, faith-based organizations, civil society and academia.
Sharing ownership
Feed the Future partners with local governments to create and implement sound policies for food security and nutrition to ultimately help them move from vulnerability to self-reliance.
Innovating agriculture
Through a network of U.S. universities and international and national research centers, Feed the Future invests in research and develops innovations that are critical to the future of food systems around the world.
Centering inclusivity
In line with our mission to support populations most in need—including those that are historically overlooked and under-resourced—we center the needs of women, the extreme poor, small-scale producers, youth, marginalized communities and small- and medium-sized enterprises.
Strengthening resilience
We strive for long-lasting, enduring change—change that can be locally-sustained and allows communities to ultimately become self-reliant. We do this by equipping people with the knowledge, tools and connections they need to feed themselves.
Our Progress
---
23.4M
more people living free from poverty
3.4M
more children living free from stunting
5.2M
more families living free from hunger
$4B+
unlocked in agricultural financing
$15.3B+
generated in agricultural sales to help farmers
1,000+
innovations developed and deployed for agriculture and nutrition
Check out our global annual results for the latest impact data and stories from the field.
History
---
Feed the Future was created in 2010 in response to the global food crisis of 2007-2008, which spiked food prices for many of the world's most vulnerable communities, leading to an increase in the number of hungry people to historic levels and an increase in political unrest. Throughout its history, Feed the Future has harnessed the best of American ingenuity to respond to food crises, from fall armyworm to the ongoing desert locust crisis.
2010
Feed the Future is launched in response to sharply rising global food prices, food insecurity and resulting turmoil in 2007-2008; the U.S. Government leads the global response
2011-2012
Feed the Future responds to the Horn of Africa drought and famine crisis
2012
The New Alliance for Food Security and Nutrition is formed; Feed the Future serves as the United States' contribution to this partnership
2014-2015
Feed the Future responds to the Ebola outbreak in West Africa
2016
The U.S. commitment to global food security through Feed the Future is enacted into law through the Global Food Security Act (GFSA)
2017
Feed the Future launches a call to action and mobilizes a global response to the fall armyworm crisis in Africa to combat the invasive pest
2018
The GFSA is reauthorized—an affirmation of continued bipartisan support to ending hunger through Feed the Future
2020
As COVID-19 is placing unprecedented shocks on food systems, Feed the Future is building on a decade's worth of progress to help accelerate recovery and strengthen resilience while addressing concurrent shocks, such as the desert locust crisis
Our Partners
---
While long-lasting, sustainable progress is possible, the U.S. Government can't achieve it alone—partner countries and our partners help us make a greater impact. Feed the Future harnesses the best of American ingenuity by bringing together a broad range of stakeholders under the shared goal of ending hunger.
U.S. Government
Led by USAID, Feed the Future draws on the agricultural, trade, investment, development and policy resources and expertise of multiple U.S. federal departments and agencies. We've put a whole-of-government, All-of-America approach into practice.

For more details and a full list of U.S. Government partners and agencies, click here.
Businesses
Feed the Future partners with the private sector to achieve mutually-beneficial goals: businesses are able to further their goals, including expanding to new markets, while simultaneously helping transform economies to reduce poverty, hunger and undernutrition. Together, businesses and the U.S. Government co-design, co-fund and co-implement projects, and share risks, responsibilities and results.

For more details and a full list of private sector partners, click here.
Nonprofits and NGOs
Feed the Future partners with U.S. and global civil society organizations—from farmers' organizations, to local nonprofits, to community and faith-based groups—that have local connections; development expertise; and a passion for combating hunger, poverty and undernutrition. We know that partnerships in agricultural development must begin with farmers and other stakeholders on the ground and the organizations that represent them.

For more details and a full list of U.S.-based nonprofit and NGO partners, click here.
Researchers and Universities
Feed the Future partners with U.S. and global educational institutions and research organizations to develop and advance a pipeline of innovations, tools and approaches that tackle challenges impacting farmers overseas and in America. Domestic scientific advancements do more than serve humanitarian goals—they are also crucial to America's continued security and prosperity. For more details and a full list of U.S. research and university partners, including our Feed the Future Innovation Labs, click here.
From food processing experts at General Mills to farmers, ranchers, teachers and agriculture enthusiasts across the U.S., our programs benefit from the time and expertise of American volunteers.
Check out these stories of community leaders and agents of change:
Affiong Williams, an entrepreneur in Nigeria
Read story
Hapsatou Kah, a community leader and entrepreneur in Senegal
Read story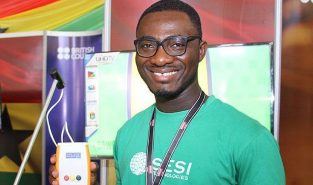 Isaac Sesi, a youth entrepreneur in Ghana
Read story
Bimala Chaudhary, a nutrition champion in Nepal
Read story
Radhika Bolakhe, a smallholder farmer in Nepal
Read story
Nelson Donis, a partner to smallholder farmers in Guatemala
Read story
See More Stories